The Curse of the Pharao – Young legionnaire Quintus is crossing the seas with the Roman fleet for the first time. They are travelling to far-away Egypt, where Caesar and Cleopatra are going to agree on a truce. But Cleopatra's malicious brother, Ptolemaios, is up to no good. To hold up the treaty of peace, he plans to unleash the Curse of the Pharaos. Head over heels, Quintus is caught in the middle. Will he succeed in balking the sinister plans and ensuring peace? An exciting adventure begins.
watch the full film: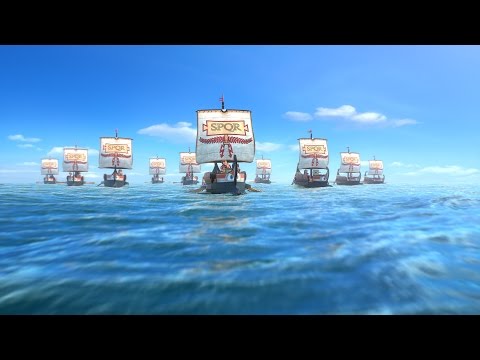 Credits
Client – Playmobil, geobra Brandstätter Stiftung & Co. KG
Project Management – Peter Ohegyi
Animation Studio – Woodblock
Director – Regina Welker
Producer – Christian Zehetmeier
Animation Lead – Thomas Hinke
Story  – Simon Rost
Storyboard  – Felix Mertikat
Rigging – Pascal Flörks, Georg Schneider
Animation – Wolfram Kampffmeyer, Marcel Unkauf
Concept Art, Matte Paintings – Alexander Lindner
Set Modelling, Texturing – Marco Hakenjos
Rendering, Shading, Lighting – Florian Wittmann
Compositing – Falko Paeper
Look Development, Look Supervision – Playmobil, Bart de Smet
Effects & Simulation – Oliver Weingarten
Musik – Simon Scharf, Toni Hinterholzinger
Sounddesign & Re-Recording – Christian Heck
© 2016 geobra Brandstätter Stiftung & Co. KG, The name PLAYMOBIL® is a registered trademark.